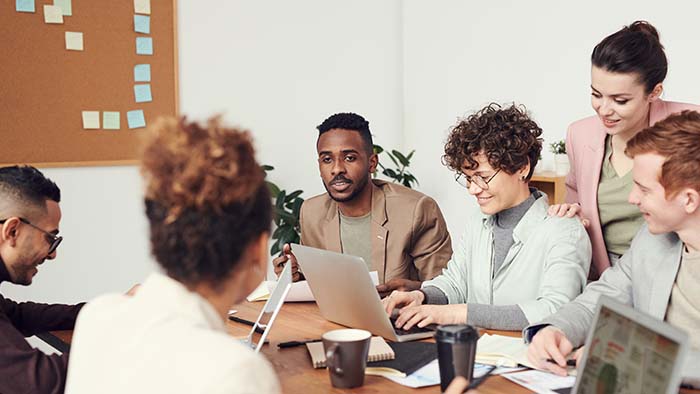 Jim Roberts, an 83-year-old sage, carries a keen intellect honed through the years and tempered by his experience. Even at his age, he is still physically strong and his wit is sharp.
Recently, I was honored to be given the opportunity to sit down with him and share in his wisdom. He told me, in great detail, about the five levels of work.
"... work is a gift. It is a virtue. Hard work leads to profit .."

Tweet
With a sixth section added for reflection, let me share with you what I learned from Jim Roberts.
Level One: Learn to Work. Be Responsible.
It may sound simple at first. Of course we know how to work, of course we can be responsible. This is something we learn from an early age.
Everything from putting away your own toys, making your bed, doing your homework for school counts as work, and these are all learned early in life through our parents and from experience.
Yet still, it's become difficult for employers to find responsible and willing employees.
A TikTok post that went viral, from @BrittanyJade903, seems to summarize this statement accurately. Upon entering the drive-thru of her local McDonald's, she was greeted by a sign that read:
"We are short-staffed. Please be patient with the staff that did show up. Nobody wants to work anymore."
So, where have all the industrious workers gone?
Jim Roberts said that work is a gift. It is a virtue. As well, hard work leads to profit, and yet many cannot seem to find people willing to exercise that virtue
Level Two: Learn to Sell. Provide Value for Others.
Not everyone has the skill to sell, yet it is a skill that we all should have. Selling, in this case, can refer to products or services. Learning how to sell and market these products or services, and practicing the basics of these concepts, will be beneficial to the business's success in the long run.
You've heard it said before: "All of life is selling."
If you can manage to sell your services, market your skills, show potential clients what you can really bring to the table, and why you are the best choice for them, you've got it made.
As Jim said, "If you have mastered these two skills, you can make a rather good living."
Level Three: Learn to Recruit.
If you can get a team, get a team.
Recruiting others changes the game, and doing so wisely increases your chances for profit, scope, and influence. Dividing the workload of a project among people with different and applicable areas of expertise heightens the likelihood of success all around.
For example, Joe Hall owns Principle Paint, LLC in Bartlesville, OK. His growing company has a team of faithful employees who work diligently and manage the business and the customers well every day.
With this cohesive team and work environment, Joe's sales are increasing, his reputation is growing, and his community influence is expanding.
But don't just get anyone either. A good team needs team players and competent, responsible people to keep a tight ship, and make a business run smoothly and efficiently.
Level Four: Learn to Work with Others.
Jim Roberts refers to this as "magic time."
This is when we can learn to suppress our egos and our feelings of frustration with others.
When we can manage that and exercise patience, we can make things happen. Emotional intelligence is vital at this level, and as Daniel Goleman shares in his work, Emotional Intelligence, it is a framework for success at this fourth level.
According to his findings, Goleman's definition of emotional intelligence includes the following:
The ability to motivate oneself and persist in the face of frustrations.

The ability to control impulses and delay gratification.

The ability to regulate one's moods and keep from getting distressed and losing the ability to think clearly and logically.

The ability to bring empathy and hope to yourself and others.
Sustaining a great level of emotional Intelligence cements your credibility and authentic leadership, especially in the face of today's uncivil discourse.
Level Five: Learn to Work with Fifty or More Other Level Four People.
People who fall into the fifth level of work are the true leaders of large organizations and are people who have mastered all the other levels and are leading vibrant, growing organizations.
These people have the ability to make use of all the other levels and create unity, harmony, and engagement in their organizations.
General George Marshall trained over two hundred men who became generals in the US military. General Marshall was not necessarily always loved, but he was able to inspire his subordinates to want to do their best, and to go beyond the call of duty.
While he is also known for his fiery temper, it was a temper that he was able to control and measure. He managed the egos of Churchill, McAurthur and Patton and grew our forces from 175,000 to 8.13 million for WWII.
(Bonus Level) Level Six: Learn About Yourself.
For now, reflect on yourself and where you are at this moment. In terms of levels of work, ask yourself the following questions:
How would you rate yourself on these levels?

At what level do you believe yourself to be?

At which level do you think your skills still need improvement?

How can you grow and improve on these aspects?

What are your greatest strengths, and how can you capitalize on them and become better?
Jim Robert's levels of work come from his many years of experience, both in life and in the workforce.
By explaining and compartmentalizing these concepts of work and interpersonal skills, we can better pinpoint our strengths and weaknesses, and improve upon them.
Take a while to reflect on these levels of work, and you'll be surprised how much more streamlined your own work and business can become.
Become the leader you were meant to be with leadership training from Chris Zervas.