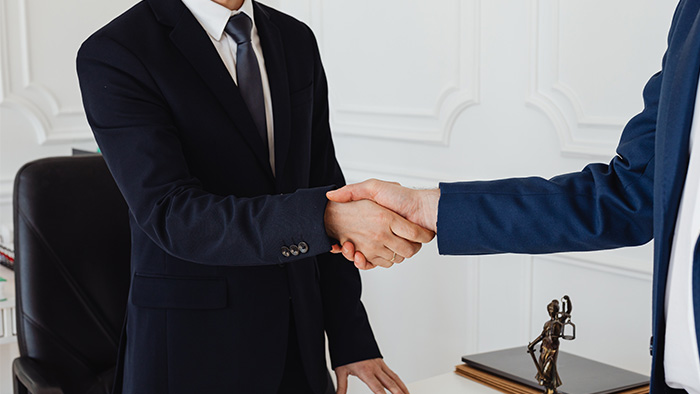 Here's what we'll cover:
Job interviews can feel scary and can even start to feel overwhelming very quickly as the big day creeps ever closer. One of the biggest pain points for first-time and veteran job hunters alike is finding the right office-appropriate attire to wow their interviewer.
However, as modern workplaces become more relaxed and casual, many people have started to wonder: does clothing choice really Matter for a Job interview?
The short answer is yes.
The slightly longer answer is yes, but it isn't just about looking good during your interview. Let me explain a bit.
Your clothing choices impact how people perceive you, your interview performance, and even your feelings about yourself. By putting on that smart-looking shirt and tie, you get a boost when feeling a little unsure of yourself – which is exceedingly common when interviewing for a job.
So together, let's learn more about why clothing choice matters and how the right ensemble can help when interviewing for that dream position.
"Dressing professionally for a job interview helps you feel more confident and assured of your own abilities on the day of the interview."

Tweet
Why is clothing important during a job interview?
The job interview process is a complex dance of employer expectations, needs, and implicit standards – meaning much of it is out of your control. However, many parts of the interview process are in your control. Your clothing is one of them. Having dressed appropriately, you can focus your attention on the interview itself.
Additionally, you can influence the interview's outcome if you show up dressed for success.
As I mentioned earlier, it's about more than just looking good at day's end. Getting spiffed up for the occasion demonstrates a few key things that paint you as a capable, reliable person:
It shows you take the position seriously.

It communicates your professionalism.

It implies that you understand the company's culture.

It demonstrates respect for your interviewer.
Beyond this, looking and feeling your best helps form strong, positive first impressions that'll keep you top-of-mind when employers start thinning the ranks and picking out front-runners.
How does professional attire benefit you as a job seeker?
As a job seeker, you have the herculean task of selling yourself to potential employers – and getting all gussied up can benefit you in two distinct ways.
The first big advantage is that potential employers will take you more seriously, meaning you're likely to advance to the next round of interviews or even be offered a job down the road. The second benefit is just as powerful.
A few mysterious things happen when you're dressed in a way that helps you embody your best, most hireable self. Your confidence soars, you perform better during technical tests, and you just feel better about your ability to land the position.
I know this sounds a like fairytale magic, but I'm not making this up. While some dapper duds won't turn you into Superman, hundreds (if not thousands) of research papers support the same claim: the clothes you wear impact how you see yourself.
So if all it takes is a of couple extra hours of finding the right suit or crisp blouse to make you feel more confident, why not set yourself up for success?
I help professionals defeat job interview anxiety, build self-confidence, and land their dream jobs. Let's work together to land yours.
Understanding the styles of proper job interview attire
"Business professional" and "business casual" are two of the most common – yet least descriptive – dress styles an employer will throw your way. The result? Thousands of confused job seekers are left wondering what to wear.
So if this sounds like you, you're not alone in wondering what the heck either of the two labels mean. Luckily, understanding them is nigh on effortless with proper guidance. Let's dive into the differences between business professional and business casual clothing styles.
Business Professional
Business professional isn't just a fancy way of referring to someone working in business; it's also a style of dress emphasizing formality and conservativeness.
So when an employer requests you come in "business professional," that means donning a well-fitting suit and sliding on practical, closed-toe shoes. Here are a few more guidelines on building your business professional best:
Suits: A two-piece matching suit in dark colors like black, gray/charcoal, or navy. Pants are ideally cropped right above the back of the shoe, and skirts should rest at your knees while standing. Simple patterns are acceptable.

Shirts: Any crisp dress shirt, blouse, or collared button-up in a neutral, conservative color. Press or iron your shirt before heading out the door to look extra professional.

Ties: Simple, solid colors devoid of flashy or overly busy patterns.

Shoes: Dark-colored dress shoes or closed-toe shoes with a small heel are acceptable.

Accessories: Some folks may wear an understated watch and belt that matches their shoes. Simple jewelry is also acceptable, as long as it's not too distracting or loud.
Business Casual
If business professional is the formal big brother, business casual is their slightly more relaxed younger sibling. Rather than emphasizing suits and ties, business casual gives you more room to mix and match.
However, that doesn't mean you can show up to your interview dressed in your Sunday barbeque best. Here are a few tips to keep your business casual on-point and appropriate:
Pants or skirts: Gray, khaki, navy, or black skirts and pants. In some cases, folks may even get away with wearing golf pants or casual slacks.

Shirts: Button-up blouses and dress shirts may be worn with or without a collar, though I prefer collared. You can also pair them with a casual sport jacket or cardigan if you want to assert your undeniable classiness.

Shoes: Closed-toe shoes are a must. Ladies may choose to wear flats or closed shoes with a conservative heel.
Conclusion
As the adage goes: "dress for the job you want, not the job you have."
While it may sound a bit cheesy and simplistic, this refers to a universal truth about people and the clothes they wear. Dressing up can help you feel more confident, more efficient, and more productive in different areas of your life – and the same is true when chasing a new job.
Everyone knows the interview process can be stressful and challenging, but with the right clothes and interview coaching, you'll be able to nail every single one.

Thanks for reading,
Chris